FUELTOFLY CASE STUDY

After working with FueltoFly for the last 3 months, we are simply blown away by the incredible new business they have bought into my snack company. We have been overwhelmed in the most positive way. The professionalism and customer service the team provides me is literally 24/7. It's like having your own dozen full-time business development reps with a fraction of the cost. If your business is ready for scale, FueltoFly is the ultimate partner.



Conversations generated:
370
Industry:
Food & Beverages
Customer Story
House of Macadamias makes 100% plant-powered macadamia superfood products that are keto, vegan, paleo, and gluten-free. The company works directly with the best local farmers in South Africa, and is driven to make the most expensive nut in the world, a more accessible one.

House of Macadamias partnered with FueltoFly as a means to expand their offering among retailers, wholesalers, distributors, and other exciting verticals. Essentially, the objective was to not only generate sales through product sampling, but to do so in a way that tested the appetite for the HoM offering globally. Over the course of the initial 3 months, FueltoFly reached out to a total of 14,000 prospects and generated around 370 possible conversations. These possible conversations entailed prospective clients either wanting to receive samples or simply learn more about the HoM offering and how they could be a part of its amazing story.

Campaigns were launched in a systematic manner to ensure that volumes of outreach were directed to audiences where demand was needed most for the business. The FueltoFly team started off by directing outreach to wholesalers and distributors, then moved onto retail, on-the-go lifestyle and fitness clubs (crossfit gyms, yoga studios, climbing clubs, MMA gyms, and other health and wellness hubs), and even golf courses. We were able to open conversations with household names like Casey's, Dunkin Food Group, KeHE distributors, Clubcorp, Sysco, and Sprouts Farmers Market.

Audiences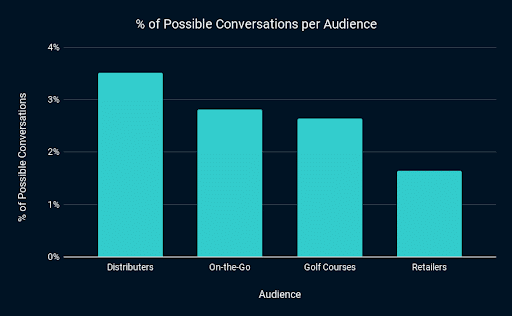 The majority of positive responses came from distributors, while the retailer's audience resulted in the fewest number of possible conversations (although this was still a healthy percentage). This makes sense due to the strong existing relationships retailers have with distributors – most retailers get their goods from distributors rather than dealing directly with the food producer.
Most Engaged Titles in Target Audiences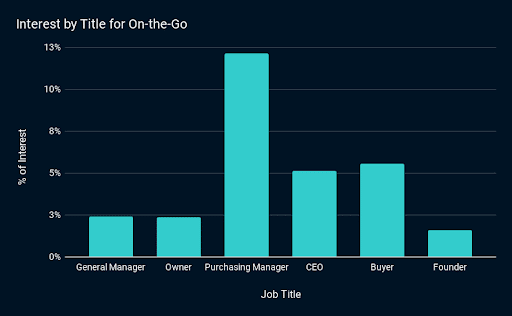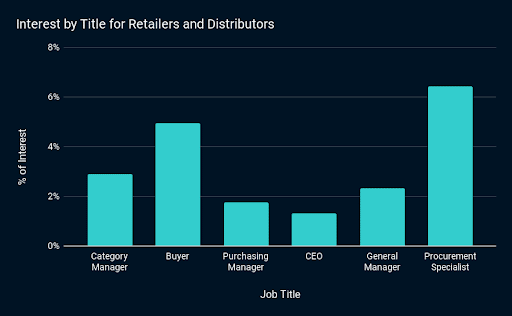 Naturally, titles relating to purchasing, procurement and buying performed the best. This was most evident for the "on-the-go" audience, where close to 13% of interest came from purchasing managers, rather than other high-level decision makers at the company.
Time of the week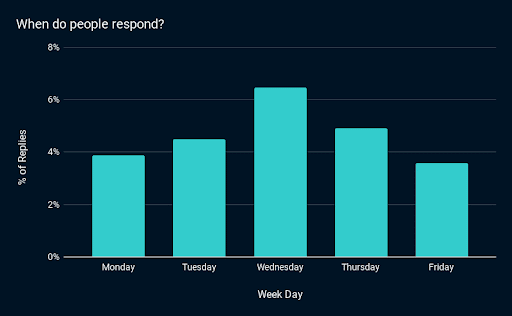 Interestingly, Wednesdays were the day in which we saw the most number of replies, closely followed by Thursday and Tuesday. Again, this makes sense as the days before and after a weekend are generally either less productive or people are too busy to reply to emails.
The Messaging That's Worked Best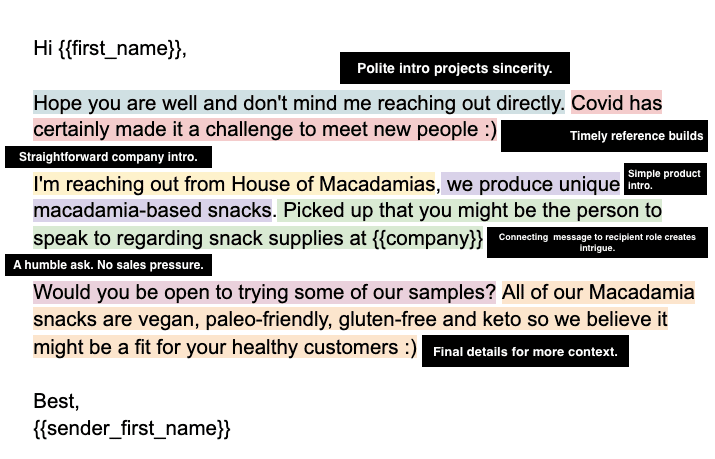 The messaging was succinct, polite and to the point, with a compelling call to action which gave the recipient nothing to lose (and gain some free delicious snacks). It's also important to note that the word count was below 150. From running outreach over the last 2 years we've found that by keeping the word length of the copy below 150 words (5 sentences or less) you're able to keep the prospect engaged which ensures a higher chance of reply.
Conclusion
The House of Macadamias and FueltoFly partnership continues to go from strength to strength with FueltoFly integrating further into the HoM sales function. The success across the various email campaigns also proves that cold email can work for an array of different businesses. As long as there's a B2B angle, a quality offering, and a large addressable market, Cold Email can open the revenue generating conversations your business deserves.